Transport in the Phloem
Transport of Organic Solutes
Girdling Experiments:

Transpiration stream occurs in the wood - xylem
Nutrients essential to life move in the bark - phloem
Assimilates: products of assimilation & metabolism
Inorganic ions (phosphate, sulfate, potassium) remain chemically unchanged during transport. Sometimes phosphate & sulfate are incorporated into nucleotides & amino acids.
CO2 is first incorporated into sucrose or some other sugar & is then eventually incorporated into every organic compound in the plant
The Pressure-Flow Mechanism
Study how the laboratory system with the two osmometers is set up and how it works. This system shows how bulk flow occurs in the phloem of plants.
Bulk flow (mass flow).
Flow through the sieve tubes is passive, occurring in response to the pressure gradient caused by osmotic diffusion of water into sieve tubes at the source end of the system & out of the sieve tubes at the sink end of the system.
Cytoplasmic streaming does not occur in mature sieve elements & thus cannot play a role in phloem transport.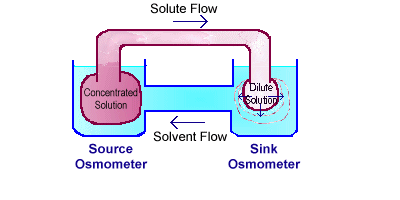 A lab model showing two osmometers that illustrates the pressure-flow theory of solute translocation in phloem

Testing the Hypothesis

Phloem anatomy
Phloem Tissue

Sieve elements or sieve tube members (no nuclei)
Angiosperms: sieve plates between cells. Forms sieve tubes.
Gymnosperms: sieve plates are not as clearly displayed., sieve cells
Companion cells (Angiosperms) -- Albuminous cells (Gymnosperms) (nuclei, with copious plasmodesmata, exact function not known)

Phloem parenchyma: storage & lateral transport
Phloem fibers: support
Minor & Major leaf veins. No mesophyll cell in leaf is separated from a minor vein by more than 2 or 3 other mesophyll cells.
Transfer Cells:
Phloem Development

Slime Bodies: phloem protein (P-protein)

Phloem Ultrastructure:
Rates of Phloem Transport
Mass transfer rate: quantity of material passing through a given cross section of sieve tubes per unit of time.
Velocity: linear distance traversed by an assimilate molecule per unit of time.
Osmotic potentials of -2 to -3 MPa are common in intact sieve tubes. Equivalent to 20 - 30 % sucrose solution.
Transported Solutes
Bleeding is often rapidly stopped as P-protein & other particulate matter clog the sieve pores.
90 % or more of the material transloacted in phloem consists of carbohydrates.
Inorganic nitrogen is transported in the xylem as nitrate (NO3-), which is not present in phloem sap. Nitrogen can be transported in xylem as ureides, amides, or other nitrogen-rich molecules.
Nutritional completeness of sieve-tube sap. Many plant parts with no or minimal transpiration are completely dependent on the phloem for organic & inorganic nutrients during part or all of their growth.
Phloem Loading: Mesophyll cells have osmotic potentials of -1.3 to -1.8 MPa. Sieve elements in leaves have osmotic potentials of -2.0 to -30. MPa. Osmotic potential is caused by presence of sugars. Sugar concentration is approximately 1.5 - 3 times higher in sieve elements than surrounding mesophyll cells.
Pathway of transport

Sugar is actively secreted from mesophyll cells into apoplast of minor veins. Sugar then adsorbed actively into large companion cells of minor veins. Then passes symplastically into sieve elements.
Phloem loading can sometimes occur via symplast.
Some species may use element of both symplast & apoplast paths
Active loading of sucrose into companion cells could produce a strongly negative osmotic potential in those cells, leading to an osmotic entrance of water, which would then pass in bulk flow across the plasmodesmatal connections between the companion cells & sieve element, carrying the sucrose along with it. High pressures & mass flow.

Selective loading of sugars

Only sugars that are transported in phloem are accumulated in minor veins. Selectivity of phloem loading is based on mutual recognition by sugars & carriers in the plasmalemma.
Amino acids are preferentially loaded. Minerals also show variable loading capacities
Many substances can enter phloem passively by diffusing in along their own concentration gradients. (growth regulators)

Sucrose/proton cotransport mechanism: transport of organic molecules such as sugars & amino acids is linked with transport of hydrogen ions.
Role of metabolism in transport: maintenance of phloem transport system for bulk flow of sap apparently requires only a minimum of metabolic energy. Metabolic energy is required for phloem loading.
Development of loading capacity: development of phloem loading capacity in minor veins could account for switch from import to export. Once sucrose is actively loaded into sieve elements, water will enter by osmosis, & flow will begin out of the minor veins; leaf becomes a source instead of a sink.
Phloem Unloading: maintains low phloem turgor pressures at the sink. Solute unloaded at sink can then be absorbed into developing fruit or other cells. Concentrations can reach values higher than in sieve tubes at source.
Pressure in the Phloem: a pressure gradient occurs in phloem sufficient to account for flow from source to sink. Gradients in osmotic potential in sieve tubes from source to sink have often been measured, with most negative values at source.
Two Problems with Pressure Flow: Substances should move in the phloem not only in the same direction but at the same velocity. Studies seem to contradict this showing that water moved slower than solutes. What accounts for this problem? (see the 2 explanations)
Pressure Flow: Summary: Munch osmometer experiment reviewed. Osmotic system (symplast) with surrounding membranes exists in the plant, & pressures are observed in the transport system. The medium with high water potential around the source phloem tissues is the hydrated apoplast.
Partitioning & Control Mechanisms
Photosynthesis & Sink Demand

Photosynthesis of leaves is strongly influenced by sink demands
When sink demand is low, sucrose piles up on the leaves, causing a product inhibition of photosynthetic reactions.

Metabolically Driven Gradients

Sucrose gradient that drives phloem transport is produced by metabolism of sucrose in sink tissues.
In storage tissues sucrose may be changed to starch or some other less-soluble product that has a lower effect on osmosis than sucrose.

Phloem Unloading

Removal of sucrose or other solutes from sieve cells makes the osmotic potential in those sieve cells less negative, so pressure transmitted from the source areas raises the water potential even further, & water diffuses out into the apoplast.
Decreasing pressure in the sink end of the sieve tubes increases the pressure gradient between source & sink & leads to further flow toward the sink region.

Growth Regulator Directed Transport

Growth regulators help direct translocation.
New sinks depend on hormones but also on increased concentrations of sucrose.
The growth regulators induce the formation of the new growth regions (sinks), but they are released from the new sinks & act as strong mobilizing agents.

Turgor Sensing in Sugar Transport

Strong sinks have high concentrations of solutes (usually sucrose) in apoplast
Strong negative solute potentials result in diffusion of water out of phloem cells which reducts phloem turgor pressure. This makes the pressure gradient from source to sink steeper & increases flow. Reduced turgor in phloem cells at source promotes rapid phloem loading, which increases rate of transport.

Control of Fruit & Vegetable Composition

Because developing seeds, fruits, or other food storage organs transpire at a low rate, they essentially subsist on phloem sap.
Phloem sap composition changes during transport from leaf to sink .