---

Sonata
---
Commissioned by the Ambassador Duo
---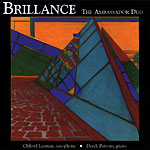 The Sonata for saxophone and piano was commissioned by the Ambassador Duo and premiered by Cliff Leaman and Derek Parsons at the XI World Saxophone Congress in Valencia, Spain. It was subsequently expanded, revised, and recorded on the Equilibrium label.
The work's movement titles suggest a Baroque sentiment, served here with an unmistakably [post-] modern twist. The tone, however, is frequently one of restraint, and it is this sustained delicato,coupled with an exceedingly eclectic palate, that forms the composition's chief technical and artistic challenge.
The piece begins softly with a quasi-homage to Bach. In the ensuing recitative, the patter song meets hip hop in a static, but often mesmerizing assemblage of prepared piano, slap-tongue effects, and metronome obligato. The variations that follow -- the true focal point of the composition -- are at once sublime, introspective (but frequently shallow), and constitute the most schizophrenic portion of the work as a whole. Here the music flits from thought to thought in true stream-of-consciousness fashion. Yet, despite this multiple personality disorder, the twenty[-]odd "re-wordings" of the theme combine to presage an elegiac procession and soaring sax line of considerable meaning near the conclusion. Allowing little time for reflection, the duo attacks the closing toccata. The attentive listener will easily supply the final note.
---
Reviews